Buying the best violin pickup is a major issue for musicians because sound amplification is a significant concern for the people who play in a violin band. Individual violin players do not have to go through the problem as often.
Bands feature a harmony of quality sound that requires every instrument to be played and heard. In such cases, just one violin can become the difference between symphony and cacophony. This is why you need a violin pickup. Violin pickup picks the natural sound from your violin and amplifies it.
But you can't get any violin pickup willy-nilly. You need a quality pickup. We will review the most bought, used, and reviewed violin pickups today.
These top violin pickups are used and loved by amateur and professional musicians alike. A great violin pickup can decide the difference between cacophony and symphony.
We will give you a compact buying guide too and will answer the internet's most asked questions.
11 Best Violin Pickups: Our Top Picks Reviewed
Let's commence the proceedings of the best violin pickups list!
TraderPlus Contact Microphone Pickup is a professional grade concert pickup system that is rightfully at the top of our list.
This is a pickup microphone for your sound amplification needs. This professional piezo contact microphone pickup can eliminate external noises, loud sounds and not catch sound reflection or echoes from around, giving you better tonal quality.
You can connect this with the sound source directly. The double-sided self-adhesive tape and Velcro give you mounting choices.
You can plug this directly into an amp, or bass amp, and even recording instruments for clear and crisp quality sounds.
This can be used with many acoustic instruments like violin, guitar, banjo, ukulele, cello, and even your piano.
The jack size is ¼ inches, and the cable size is 10.6 inches.
Pros
Highest reviewed product in our list
Works with other musical instruments
Built-in jack output socket, contact microphones
Eliminate external noise& ambient noise
Amplifies natural sound
Feedback rejection feature, no modification to the instrument body
Cons
Like the highest-reviewed product on our list, this too comes with double-sided tape and Velcro for attaching to your violin and other acoustic instruments.
This is a stick patch transducer that works through direct contact with the sound source. Because it is sticky and can be attached to the violin body, it minimizes the damage to the body of the instrument.
Randon Piezo pickup has a 9.65 inches long cable with a female socket for your amp, bass amp, of the sound recorder. The jack works with a 6.35 cm jack male plug.
These piezo style pickups can also work with Violin, Guitar, Ukulele, Banjo, Kalimba, and Harps.
The Randon Piezo RP-50 comes with volume control, passive pickup systems. This is also an option you can get for just $2 more.
Randon Violin Piezo pickup has a seven day replacement policy.
Pros
Works with other musical instruments
Built-in jack output, contact microphones
Feedback rejection feature, natural sound only
RP-50 seems to be a better option here
Cons
Andoer Clip-on Pickup is a professional violin/viola pickup for your use which comes with a ¼ inch jack that is 2.5 meter long cable.
This is a clip-on design and is very easy to install. The pickup works by plugging into the amp or other recording equipment for crystal clear sound.
Andoer pickup can eliminate external noises and is very easy to stay on your violin.
It picks up the sound from your violin's f-hole and carries it to the amp or other recording instruments.
This pickup can work with violin, violas, mandolins, cellos, and guitars.
The price range of this pickup is very affordable, and so you can get a whole bunch of these pickups for the price of one expensive pickup. You will have a backup pickup system.
This is a perfect gift item for your kids. You can buy this for the whole band.
Pros
Very cheap, can buy for the whole band
Built-in jack output, contact microphones
Feedback rejection feature
Cons
Some otherwise happy customer has issues with the cable length
This is a microphone Piezo pickup for your violin. This is a small, pocket-size pickup that is easy to carry.
This Imelod has a female socket that can be attached with 6.35 mm, ¼ inches of an amp, bass amp, or recorder.
You can connect the pickup directly to the sound source. And this will catch the sound and pass it through to the amp. The attachment is easier because of the double sided tape on the receiver end. It has Velcro adhesive on the jack end.
This is a suitable pickup for Violin, Guitar, Mandolin, Kalimba, Cello, Banjo, and Ukulele.
The double-sided tape doesn't leave marks on your acoustic instrument. And you do not have to drill a hole into your instrument.
This microphone amplifies the sound vibrations from the hollow body of the instruments. It is a sensitive pickup system, and it gives you the clearest crisp sounds.
 Pros
Built-in jack output, contact microphones
Feedback rejection feature
Very cheap, can buy for the whole band
Cons
Some claimed it is too sensitive
Cherub WCP 60v is a passive pickup that is very highly recommended by users and customers.
This Cherub pickup gets clips onto the f-hole. It reproduces the violin's natural sound and puts it through the amp or preamp setup and recording systems.
As this is a passive pickup system, it does not require a battery.
This is a classic ceramic high-quality electric violin pickup that comes with a 1 meter cable to attach to an amp or preamps or recorder.
Cherub WCP 60v  is an extremely sensitive pickup that catches the clearest and nuanced sounds of your violin. It has a feedback rejection feature that takes care of the background noise or feedback noise.
People have recommended this pickup that has no other alternative. This is very affordable, and you can buy more than one for you and your band!
Pros
Classic ceramic pickup system
An affordable price
Feedback rejection feature, background noise reduction
Very cheap, can buy for the whole band
Cons
Myers pickups is a very famous brand that makes pickups for acoustic instruments.
This is a lightweight violin pickup, which is why it is called Feather Violin Pickup. It is very compact and can be used with many other acoustic instruments to amplify your sound. Myers pickups is a removable pickup that does not harm your instrument's solid ebony tone and beauty.
Myers pickups is an internally powered pickup system that gives you top-notch sound through the active preamp that it comes with. This works with most wireless systems.
This feather violin pickup comes with a power source that is included with the package, and you can very simply plug it in and get on with your playing. It will deliver the best possible music for a long time.
Myers pickups work just as well with acoustic & electric instruments. You can use this in your violin, guitar, ukulele, banjo, and many other instruments.
Myers pickups made in the USA product are a desirable pickup for many pro and amateur bands across the nation.
Pros
An internally powered pickup
Easy installation
Preserves the acoustic tone, great sound quality
Works just as well with other instruments
Very cheap, can buy for the whole band
Unbox and play, comes ready for installation
Cons
For the number of recommendations that we received for this pickup system, we were genuinely disheartened to see so few people took the time to review this. Reviews help others, people! Do it as a charity.
Anyway, Fishman Classic V-200 is a piezo-ceramic pickup that is known for the sound quality that it delivers.
Professional Violin Pickup Fishman is a very lightweight pickup. So, it is very convenient to carry to practice or for the shows.
This professional pickup system has a minimize muting ability. Fishman V 200 has a carpenter style, ¼ inches output jack that is on the side of the instrument.
This pickup gives you the most value for money and quality products for their customers.
Fishman V 200 works better with an impedance matching preamp, but it is not necessary. It is more of an option. People have used it without an impedance matching preamp, and have found it to be the most helpful.
The pickup can be used with violin, guitar, ukulele, banjo, and many other instruments.
This is a high end, high demand, high-performance violin pickup that gives you crisp sound. It deserves a higher place in any review article. Be sure to review it once you buy it.
Pros
User manual included
Piezo-ceramic pickup for deeper sound
Easy installation
Best sound quality, tone quality
Works just as well with other instruments, perfect for mixing desk
Unbox and play, comes ready for installation
Cons
This is a clamp on bridge violin pickup that is used to amplify your violin's original sound.
It is an easy installation pickup with a 3100P output jack. This gives you excellent string balance and wideband frequency response on the amplified sound.
This clamp on bridge violin piezo pickup features a feedback rejection feature that allows clearer and truer reproduction of the instrument's natural tone. It can eliminate external noise through the feedback rejection feature.
This Barcus Berry pickup can be installed easily and requires no drill or holes. It preserves the solid ebony color of your instrument.
This package only includes the pickup, not the preamp. But users have used it without the preamp, and it is not a big deal, according to many users.
Barcus Berry Pickup is a high quality, premium pickup that deserves more positive reviews. If you have used it, please put on a review for it, and make the purchase decision easier for other people.
Barcus Berry 3100 is a quality product that has a reasonable price. And for the service you will get in shows and bands, this is a reasonable bill that you should be willing to pay.
Pros
Easy installation
Works just as well with other instruments
Feedback rejection feature, superior sound quality
Comes ready for installation
Cons
KNA is a handcrafted pickup system that is made in Europe. This is a lightweight, wood-encased sensor to give you a top-quality violin pickup sound from your violin.
This solid ebony pickup features a ¼ inch carpenter jack that is cork-lined for additional safety. It is an adjustable cork-lined clamp that has a lot of recommendations from experts.
It's a removable pickup that can be used permanently as well.
KNA VV-3 Piezo pickup gives you a professional sound without any modification of the instrument. It is a very easy-to-install pickup that is very affordable.
This has a convenient clamp that holds onto the violin, and it is a strong clamp that can stay on for a long time. It will not damage the violin.
This is a good investment that will last long, so in that regard, you are not paying much.
Pros
Easy installation
Works just as well with other instruments
Feedback rejection feature
Comes ready for installation
Cons
This is the last violin pickup in our list.
Headway the band violin is an easy to install violin pickup. It provides you with a durable, compact, and easy electric amplification system.
The violin pickup doesn't require any modification to the instrument itself. It comes with 2 Velcro straps with hook and loop strings.
You can firmly secure the pickup to the violin. Headway band violin pickup gives you a guide of how to put the band on the violin-
This is the process:
Pass the end of the pickup tube under the violin strings between the bridge and the tailpiece. Then wrap it around the violin's waist.
Strap the two ends of the tube firmly around the violin's back and secure with the provided Velcro strip.
Wrap the other provided Velcro tape is around the first to provide additional security for the mounted pickup.
This premium quality pickup works well with violin, viola, ukulele, and guitars.
There is a warranty available for this product. The warranty information can be accessed from the link.
The violin pickup's price falls in the higher range. But for the clarity of sound, durability, and mobility of performance that this product can give is worth the price.
Pros
Easy installation with Velcro straps like a large rubber band
Works just as well with other instruments
Feedback rejection feature
Comes ready for installation
Cons
The products produced by Myers are of exceptional quality and craftsmanship. There is no surprise that Myers' Carpenter Jack pickup is one of their best. The mount on the Carpenter Jack differs greatly from that on the Feather, yet both are extremely light. The same turnbuckle, chinrest-style method is used to attach this pickup to the violin, so you'll enjoy a stable connection.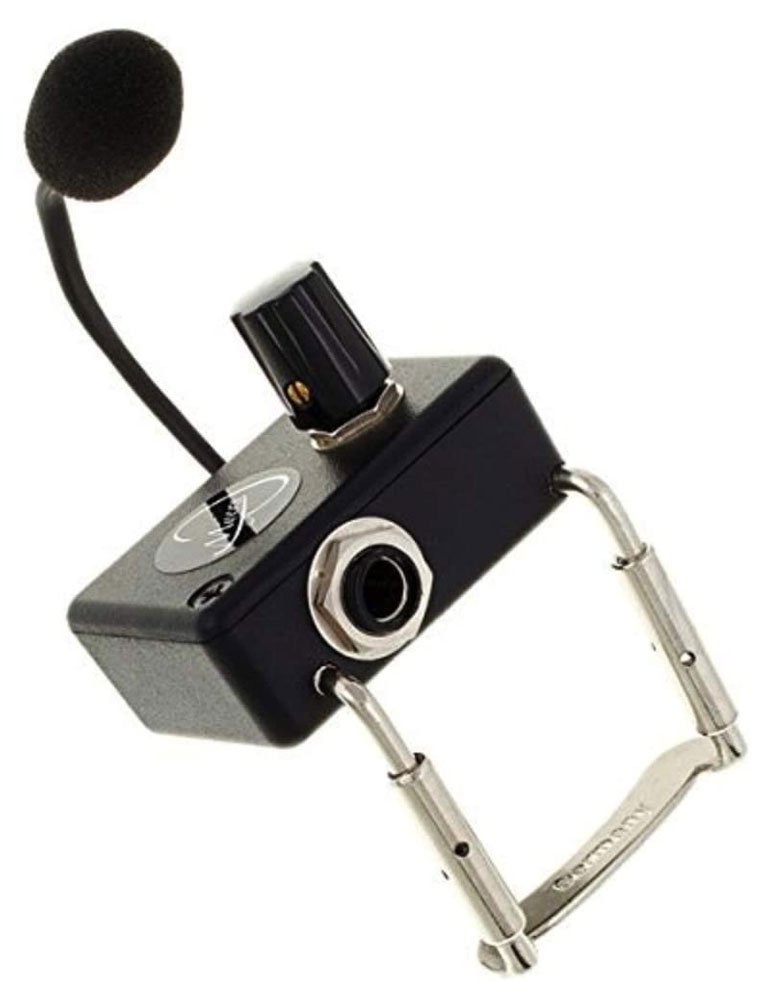 This tiny, active, and adaptable pickup from Myers Pickups is an excellent choice for your violin because it is simple to use and setup. In terms of appearance, it is a compact black box with a thin microphone adapter that may be used with a wide range of musical instruments.
Micro-goose neck on Carpenter Jack allows you to fine-tune the pickup's placement to capture sound from all angles. With the gooseneck, you can easily acquire a perfect reproduction of the sound of your acoustic instrument by placing the microphone above the F-hole. Using the built-in jack output, you can attach this pickup to the edge of your violin.
For the Carpenter Jack to work, you'll need a battery, as opposed to a passive pickup. Because a battery is already installed in the built-in preamp, you can simply plug it in and forget about it. A pre-installed battery is included in the kit to get you up and running. Your acoustic instrument's tone will be accurately reproduced with the gooseneck microphone placed over the instrument's F-hole.
Only the black box and a tiny violin transducer facing in the direction you choose will be visible once it is installed on your violin's side. As a result, the Carpenter Jack is our pick for the most understated yet potent pickup. Its output is clear, of great quality, and free of feedback.
This violin pickup is ideal for violinists in search of an amplifier that is both versatile and adaptable while playing.
Pros
Easy to tune
Simple to use and install
Good sound quality
Highly adaptable
Non-intrusive construction
Lightweight
Easily adjustable
Compatible with almost all instruments
Cons
Best Violin Pickup Buying Guide
There are different types of violin pickups in the market, all of which claim they are the best violin pickups. But there are some features you should be keeping in mind, few types that need to be known in order to make a purchase.
We will discuss the features of violin pickup, and types, and some other relevant information- in our buying guide.
Types of Violin Pickups
First of all, let us see the types of violin pickups and what they do in our segment called 'types of Violin Pickup.'
1. Piezo Pickup
Piezo pickups are the most common and most used violin pickup in the market. These are the classic violin pickups that are used almost everywhere.
Piezo pickups take the vibration from the violin's natural sound from your violin when the strings vibrate (and other musical instruments) and create a higher, clearer output sound. The sound is brightened by a piezo pickup.
Some people think piezo pickup sounds are too harsh. But that depends on the position, which we will discuss in a while. Piezo pickups generally fall on the less expensive side.
2. Magnetic Pickup
Magnetic pickups produce sound based on the sensitivity to the dynamics, besides vibration. They produce a clearer and warmer sound.
The magnetic pickups use vibration, but unlike Piezo pickups, they don't immediately convert the vibration to amplified sound. They work by picking up the vibration of the strings, the violin's body boom, and by the dynamics of the playing.
These pickups are more professional favorites and more expensive than Piezo style pickups.
3.    Micro-Goose
Micro-goose violin pickup systems preserve the violin's natural sound and are very efficient at it. These systems use microphones, attaching them to the pre amp; this gives you control over the sound.
The micro-goose pickups system offers you the opportunity to try out different positions to pickup the greatest output.
4.    Bridge Pickup
Bridge pickup systems are very convenient and permanent pickups. They are installed on the Bridge. These systems contain violin transducers to pick the sounds that are then converted into signals.
These Bridge Pickups are convenient because they are preinstalled and do not mess with the natural look of your instrument.
With great convenience comes great cost. Bridge pickup systems are expensive and need experts to be installed. You will need to pay for the pickup, the Bridge, and the installation.
5.    Under the Bridge Pickup
These pickup systems pick up sound from the Bridge and from the instrument's top. The sound that this pickup generates is more clear and more nuanced.
These are better than the other pickup systems that we have discussed. But, these systems are semi-permanent, and are very difficult to remove.
6.    Clip on and Contact Microphones
There is no contest over the efficiency and clarity of microphone pickup systems. Clip on microphone pickups does not go through the whole conversion process. It just amplifies whatever sound it catches. These pickups give you less control and accuracy.
Contact microphones also give you the best outputs and are very easy to attach or remove. These are more expensive. But they give you the better sound outputs from your acoustic violin and other acoustic instruments.
Passive Pickup or Active Pickup
This is another buying consider that you should be thinking about. Whether you want a passive pickup or an active pickup should drive your purchase.
A.   Passive pickups
Passive pickup requires no batteries.
These systems use magnets and transducers. They generate current themselves. You just plug them, and they do their jobs. Which is to pass the job over to the pre amp or the amplifier that they are connected to.
B.   Active Pickups
The active pickup requires a battery.
These pickup systems will give you a better and higher output and will not require much external shaping. Some of these come with pre amp, but all of them work as mini amps.
Permanent Pickup or Removable Pickup
This feature should be at the forefront of the buying considerations.
Suppose you play regularly in a band where it is vital for your sound to reach the audience. In that case, you will need the finest violin pickups that are permanent and discreet pickup.
However, if you occasionally play in a band or rarely need sound amplification, manipulation, and recording, then the removable pickup systems are your thing. It will also be beneficial if you are more on the side of playing acoustic violin
We have reviewed both types of pickups for your convenience. You can get a violin pickup from the list of the highest-rated violin pickups.
Things to Consider Before Buying a Pickup
There are two more aspects that you must consider before buying a violin pickup.
Position
This is not so much a buying consideration but more of a personal preference.
Where do you want your pickup to be at? Do you want the aesthetics of your violin to be preserved, or the pleasure of playing is more important for you?
These questions should drive your purchase in a certain direction.
The classic Piezo pickups can be placed anywhere. Others can be clipped onto the f-holes. And, Micro goose pickup systems are as flexible as Piezo counterparts. You can experiment with the position until you find the perfect one.
Price
The price of a violin pickup ranges from $60 to $600. The frequency of your use, the kind it is that you are looking for are the things that you need to keep in mind before buying the pickup.
Our list features the most affordable pickup systems for you. We have carefully selected these highest rated products that are customer favorites too. We have tried to reach a middle ground between affordability and functionality.
Conclusion
Playing the violin is considered to be one of the most incredible skills. It is an instrument that is very gentle and soothing if played well. Well, that and if the sound is amplified correctly.
We have carefully selected the top-rated violin pickups based on the top features and the highest functionality as per the customers. And, each of these products was purchased and used by real customers, and they have vouched from the product through their reviews.
Naturally, there may be other violin pickups that you may have used and found them to be the most functional. We would like you to write your experiences and suggestions to us (data rights reserved by our privacy policy). You can write to us with your support.
FAQs
How do you amplify a violin sound?
Ans: You can amplify the sound through an amplifier, but for that, you will need a violin pickup. Some use a mini vibration transducer to amplify the sound.
Is LR BAGGS violin pickup any good?
Ans: We have not listed LRBaggs pickups because it has fewer reviews than our lowest limit. LR baggs violin pickup may be good, but it lacks the reviews.
What is the best violin pickup?
Ans; The finest violin pickup is apparently from TraderPlus, but other brands like Cherub and Myers pickups are also in the same bracket.
What is the most suitable amp for an electric violin?
Ans: Acoustic guitar amps are the most suitable for an electric violin. You can try Roland AC60 and the Fishman Loudbox Mini amps for your electric violin. Or you can use a combo amp. You can consult any electric violin shop.
Where do you put a pickup on a violin?
Ans: A violin pickup is put near the sound source.
Which is better- Removable Pickup or Permanent Pickup?
Ans: Generally, removable pickups are better because you use your violin in your band or solo. Permanent pickups are better and efficient if you play in bands only.