Do you want to know which brands or categories have the best accordion for beginners? Do you want to get off to a good start?
The accordion is a one-of-a-kind musical instrument that marks some of the most intriguing musical styles. The instrument is a focal point in a variety of musical genres, including American Cajun music and Klezmer, as well as Polka and Tango. This musical instrument may be one of the most distinct sounding folk musical instruments available among other different types.
Whether you are a music lover who plays a significant number of musical instruments or this is your first step into musicianship, the accordion may be a terrific buy and provide a lot of delight.
Nevertheless, if you want to learn to play the accordion and are ready to buy your first instrument, it can be tough to know where to begin.
Fortunately, we're here to assist your search.
This article critically reviews the six best accordions for beginners currently available on the market. You will also find a related complete buying guide to help you select the right accordion for you. Finally, we addressed some of the most frequently asked questions that any accordion beginner may have.
Let's get started!
7 Best Accordions for Beginners Reviewed
You need the perfect accordion to join a neighborhood band, form your own instrumental ensemble, or just have fun. Every instance of finding a decent beginner-friendly accordion does not have to be complicated or daunting.
Here, we present the top 6 picks for the top-rated accordions for beginners available in the market.
The Hohner Panther G C F 3 Row Diatonic Accordion is the most suitable participant for both beginners and experts.
This matte black accordion is costly compared to other ordinary accordions. Hohner isn't exactly a budget brand known to people. But they are for A-list musicians. So, their prices are expected to go far up.
This diatonic accordion is pre-set. Even a beginner accordion player can hold and play this right out of the box. In addition, it takes no setup and comes with a technique book.
This accordion is elegant. The materials are clearly of really great quality, adding to the instrument's charm. They are also incredibly sturdy, so we expect this accordion to last for many years.
Keeping Hohner Panther sleek isn't difficult. But no gig bag is included. So, improvise to protect your instrument from scratches and bumps.
It features 31 treble buttons and 12 bass keys that are smooth and can be played by anyone, including kids. The 3-row shape also allows for easy movement around the accordion and accessing base buttons.
This accordion also comes with various essential add-on accessories. Oddly, it comes without a gig bag. Regardless, this accordion comes with double strap brackets, a cleaning cloth, and a Hohner method book. All yours!
Pros
Affordably priced option
31 treble and 12 bass keys
Great sound
Affordable
Top shelf accessories
Durable but lightweight
High quality workmanship
Cons
Does not include a gig bag
It's no surprise that Hohner, the world-famous accordion manufacturer from Germany, has two on this list as the world's leading accordion manufacturer. From beginners to more advanced performers, the Hohner Compadre accordion is a superb mid-priced offering designed to provide outstanding service to a wide range of musicians.
This diatonic accordion comes with 31 treble keys and 12 bass buttons. These accordions come in many colors and keys (always three rows at a time).
This accordion's design is amazing, and any design you choose will capture the audience's attention. The price is higher than Panther variants, but you get greater sound and instrument quality.
This is great for beginners and kids and for advanced musicians looking for a quality model that can be used for both practice and performance.
Pros
High quality built
Airtight bellows
Smooth and non-irritating buttons that make it easy to play
Lightweight
The redesigned grille and high-pressure valves providing powerful projection
A suitable weight for long-term play
Stunning appearance
Cons
Roland believes their V series accordions revolutionized music. While a tad over the top, they have certainly increased the accordion's potential.
The Roland electric accordion series is versatile and compact. The bellows circulation was increased for sensitivity and precision. Thus, while maintaining USB connectivity, this electronic instrument features the feel and soul of the original acoustic instrument.
Onboard speakers and a 7-segment LED display are included. You can pick between free bass, standard, or piano.
Pros
The high quality build
The accordion's musical potential is expanded by its MIDI connectivity
USB compatibility
Awesome sound quality
The options of choosing a button or a piano, as well as a standard or free bass
Speakers on board
Cons
The Rossetti 31 Key Accordion is an excellent choice for beginners as well as kids. The Rossetti Button accordions are decorated in Italian style and have iridescent hues.
The bellows are 20 fold larger for a louder sound and have sheepskin corners for longer life.
There are single straps hooks on either side of the accordion with plenty of clear spaces for the two extra long leather padded shoulder straps.
An adjustable left-hand strap is also included with the accordion.
This Rossetti accordion is packaged in a high-quality soft cushioned body case with a lock and shoulder straps.
Pros
Spectacular sound quality
Affordable
Comes with a cushioned case and shoulder straps
Excellent build quality
Smooth 31 buttons
Notes with a wide range of applications
Cons
Keys break due to excessive pressure
The Tula 209 Tulskiy Bayan Chromatic Button Accordion well exceeds expectations. Even though it is on the higher end of the price range, you receive considerably more than you pay for. As previously said, Tula accordions are legendary, particularly any Tulskaya Garmon.
In terms of quality accordions, this instrument provides great value. It features a plethora of functions that can be difficult to find on a chromatic button accordion.
The Tula 209 features 5 rows of buttons on the treble side, totaling 92. The bass has 100 buttons to choose from, providing you with a plethora of harmonic options to experiment with.
Pros
Made by one of the most dependable accordion manufacturers on the market
The quality greatly beyond the cost
Luxurious finish
92 treble buttons and 100 bass variations
Looks stunning
Lightweight
Suitable for both beginner and professional levels
Cons
The new Hohner Beginner Accordion has a stronger mechanism, tremolo tuned reeds, and resonant construction. It also comes at a fairly low price.
This piano accordion barely weighs 12.5 pounds, making it simple to transport and perform, even for kids.
Another important fact is that it generates a full, lively tone suitable for beginners and students.
It features 12 red basses, each with 26 keys, a range of G-G, two sets of reeds, and tremolo tuning.
Pros
Specially built for beginners and students
Easy to play
Affordable price
Stunning sound quality
Aesthetic design
Lightweight
Cons
The AP-1230 from Trinity College is currently the market leader when it comes to English concertinas. Because it contains 30 buttons spanning a range of three octaves and notes that alternate between two hands, it is an indispensable instrument for playing folk and classical music in a fast-paced setting.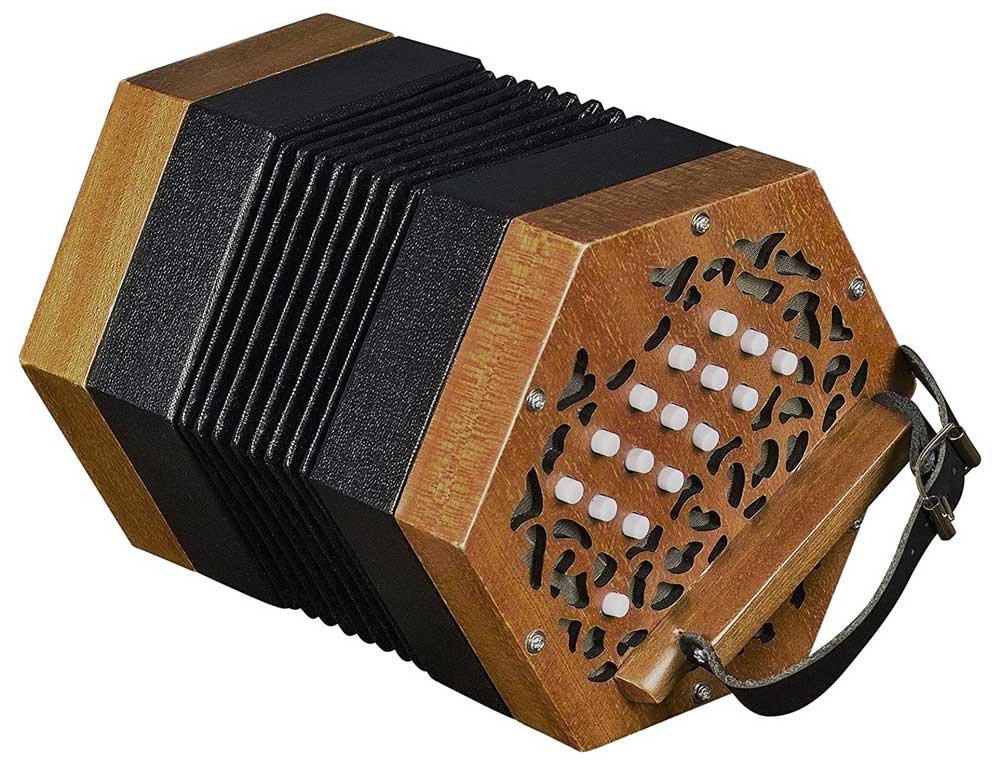 Trinity College's AP-1230 concertina is a hand-crafted, iconic recreation of an instrument from the 19th century. It features an English-style design. Because it employs a unisonoric mechanism, the pushing and pulling of the bellows result in the production of the identical note regardless of whatever key is pressed.
It contains 30 buttons throughout a range of three octaves, which makes it a flexible concertina that fits various types of folk and classical music, particularly when played by an expert. You can continue to use it even if your skill level increases because it has a wider range of tones available than the other accordions on the list.
Thumb straps that are padded and customizable, as well as metal hand stops, can be found on both sides of the instrument. Because of these features, it is suitable for musicians of varying levels of expertise. It has a black cloth bellows with eight folds that allow you to play it effortlessly, and it also has a button that allows you to lock the instrument without making any noise. Both of these features make it possible to play it comfortably.
In addition to that, it has laminated hardwood end plates that have a finish that looks like light brown walnut. It is not the lightest or most compact model available on the market, measuring 8.7 inches by 7.9 inches by 7.1 inches and weighing 3.55 pounds. Despite this, it comes with a plush-lined zippered gig bag that makes storing and transportation a breeze. You won't have any trouble transporting it anywhere you go thanks to the fabric handle and the adjustable carrying straps it comes with.
Pros
One of the most outstanding examples of an English concertina
30 buttons covering a range of three octaves
Thumb straps that are padded and adjustable
Comfortable toplay
Suitable for beginners
Compatible with both folk and classical styles of music
A timeless and graceful appearance
A laminated hardwood finish
Cons
Tuning may be tricky for some
Some users may findthis to be too large
Buying Guide for the Best Accordion for Beginners
Buying an accordion is a commitment to learning how to play it. We strongly recommend visiting an accordion shop in your area to see what might suit your needs. Consider these factors before browsing the accordions for the first time.
Age
Usually, purchasing a used accordion is fine. This is a great way to save your buck. But avoid buying too old accordions. Damaged parts will be hard to find and replace.
Buy a used accordion and examine the bellows. Moisture can easily infiltrate and ruin accordions. The key color is also vital. An old accordion with yellow buttons should be avoided. Go for the ones with white keys.
Size
Since accordions are portable instruments, they are usually carried. You should get familiar and comfortable playing the instrument. Portable accordions are lighter to make them easy to carry anywhere and practice. Considering the size is specifically crucial for kids. After learning to handle and play them, you can switch to professional big and heavier accordions.
Price
As a beginner, you should go for less expensive instruments. Once mastered, you can always upgrade to a more professional and bigger instrument. The overall quality of an accordion should not be compromised by price, so do not go for cheap options. The idea is to get the best deal.
Performance
Since you will be using the accordion, you should play it once before buying to see how it sounds. You'll need to work on the instruments. You must be pleased with the notes. The performance the accordion gives should be worth your time and money.
Tuning
The accordion should be adjusted properly for optimal pitch. This determines if it sounds pleasant. Wet and dry tuning are popular tuning methods.
Types of Accordion for Beginners
Before buying an accordion, decide the type you want. If you already have an instructor, you should go with the type of accordion they have. This will help to learn what category you might need.
Diatonic, Chromatic, Concertino, and Piano accordions are the most common types of an accordion.
      i. Diatonic Accordion
The buttons of a diatonic accordion are placed closer together, making it easier to play. Once you master the trick, you can do this one quickly. The notes may be difficult to understand due to their random placement.
    ii. Piano Accordion
The piano accordion is ideal for beginners. Those who already play the piano will quickly adapt. The piano keys are heavy and spaced widely apart, making them harder to play, unlike the diatonic ones. This accordion has fewer notes due to the distance between the keys.
   iii. Chromatic Accordion
This accordion includes all the flats, naturals, and sharps. It features buttons on both sides. The closer button arrangement makes it easier to play; however, some buttons need a wrist twist.
   iv. Concertina
The music box of a concertina has buttons on both ends. It's a two-handed instrument that's used to make classical music.
Accordions Maintenance Tips
Make sure your accordion is polished. You perform better and practice better with an instrument you are proud of.
Keep your accordion dry and warm. Don't leave it in the vehicle or near heaters. Extreme heat might harm the reeds.
When removing the accordion from its case, be careful not to harm the bass and treble keys.
When not in use, the accordion should be carefully lowered to the ground.
Conclusion
That was all you needed to know in order to pick the most suitable accordion for yourself.
Not surprisingly that there are so many accordions on the market, given the huge demand. They are fairly expensive instruments because of their complexity, and you don't want to make a mistake while purchasing one.
We do not earn from any affiliation or commission here. You can trust this list. According to the user reviews, our mentioned accordions have proven to be outstanding for many musicians across the United States. After comparing them to professional reviews, we chose our top picks.
We believe that this article will give you enough idea to make your decision to purchase a beginning accordion. We also hope to answer most of the questions you find crucial when purchasing a new accordion. So, you can write to us for more information and suggestions (data rights reserved by our privacy policy).
FAQs
How do I choose my first accordion?
Ans: While choosing a beginner accordion, consider your ideal type, what you will use it for, convenience and portability, cost, weight and size, compression, and reeds. You can talk to an expert to find the most optimum mix of characteristics for you.
How heavy is an accordion on average?
Ans: An accordion typically weighs 12-30 lbs. Entry-level accordions usually weigh 10-12 pounds, in particular, to make them comfortable for carrying and playing.
How much does a beginner accordion cost?
Ans: The starting price of the most beginner accordions is $500. However, there are some excellent options in the $300-500 range as well.
How to play the accordion with buttons?
Ans: The button accordion is played with the right hand, left hand, and left arm. The right hand plays the treble. The bass buttons are on the left hand. The left arm controls the Bellows, which make music by pushing and pulling.
Is the accordion easy to learn?
Ans: Learning the accordion is simple. Daily practice should bring comfort after 3 or 4 months. Letting your hands work independently while playing keys and buttons and moving the bellows is the difficult part of mastering accordion. You are recommended to take lessons from the experts.
What is the ideal accordion for a beginner?
Ans: Single note bass and fixed chord buttons facilitate easier and faster bass and rhythm accompaniment learning. A 12 bass buttons accordion is ideal for beginners.
What to look for when buying an accordion?
Ans: When making a purchase of a beginner accordion, definitely open and check for any musty or moldy smell coming from the accordion or the case. Then check if the treble keys are working properly; if each of the keys produces sound; if a reed is out of tune; and if there is any sticking or sluggish button.
If you buy something from our list of the best accordions for beginners, be sure to let us know how it goes. We will revise our data based on the feedback you provide. Please also get back to us even if you disagree with anything on this article.
Get the perfect accordion for you and start playing the most beautiful melodies you love. Until next time!
What Type of Accordion is Easier to Play: Button or Accordion?
Ans: You can choose your unique type of accordion according to your preferences. However, the buttons on a button accordion are small and closer together than piano keys, making it easier to play. It's suitable for playing multiple intervals and ranges with additional fingering options.